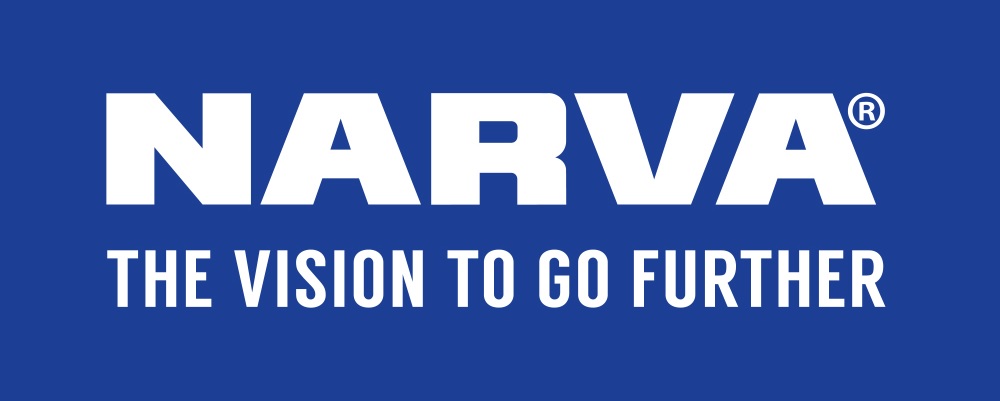 Narva Automotive Lighting & Electrical
First established in 1953, Brown & Watson International Pty Ltd is a leading supplier of high quality NARVA automotive lighting and electrical accessories to the automotive, heavy transport, recreational vehicle, mining, marine and agricultural industries throughout Australasia and the Pacific region.
Today more than 5,000 individual part numbers make up the NARVA range in Australia's most comprehensive market leading catalogue. The entire product range can also be accessed via the sophisticated NARVA websites www.narva.com.au and www.narva.co.nz
All products carrying the NARVA name are engineered to the highest standards and tested by experienced quality and product engineers providing the ultimate peace of mind. NARVA has invested heavily in the design, engineering and development of products for the global market and has an advanced environmental laboratory and state-of-the-art optical lighting test facility.
NARVA's slogan 'The Vision to Go Further' exemplifies the company's emphasis to deliver the world's highest quality vehicle lighting products that meet and exceed customers' expectations and further enhance this market leading brand
Narva's extensive range of Driving and Fog lamp products offer the driver terrific choice in finding a suitable solution to their driving needs. From HID Xenon Driving to LED Driving Light Bars, and the many accessories that go with them, Narva presents a great choice night time driving illumination.
Narva supply a huge range of automotive globes to suit all types of vehicles and their various applications.
Narvas emergency lighting range features a multitude of mounting options including multiple-point brackets, single bolt, anti vibration and magnetic with suction rubber pads. There are also many optional extras to support the range such as stainless steel hardware options such as fixed position or 360 degree brackets with sweep and variable tilt.
Narva has a quality range of fuse and circuit protection parts to suit almost any job.
Narva offers a comprehensive range of terminals including insulated terminals, non insulated termainls, trade terminals, connector strips, solder splice terminators and a host of waterproof and quick connect types. Available in both retail and trade packs.
Narva produces a high quality cable for all sectors of the automotive market. The Narva cable uses oxygen free copper and RoHS compliant polyvinyl-chloride (V90-PVC) insulation in accordance with Australian standards AS/NZS3808 and road train cables comply with the Australian Design Rule ADR 63/00.
Narva switch types include LED switches, Marine switches, sealed waterproof switches, toggle switches, rocker switches, rotary switches, ignition switches, push button switches, battery master switches and emergency shut off switches.
Narva relays and flashers are manufactured in Europe to very exacting original equipment standards under the control of ISO9001. The relays feature silver contacts for durability and a removable metal mounting tab for convenient installation. All relays are rated to 500,000 cycles and now feature a braided power strap for increased reliability. Narva relays are available with resistors or diodes to protect sensitive electronic equipment from voltage spikes. A resistor dampens a voltage spike while allowing the current through, while a diode absorbs the power and stops the spike completely.
Narva reversing alarms span a range suitable for passanger, commercial and heavy duty applications.
Narvas quality range of accessory plugs and sockets including surface mount sockets, merit style plugs and sockets, and usb and power adapters, with a variety of options. All plugs feature fuse protection while the sockets are supplied with an optional mounting panel making installation easy. All sockets are suitable for 12v or 24v use.
Narvas range of trailer connectors include trailer plugs, trailer sockets, adaptors and suzi coils are manufactured to comply with all relevant Australian Standards.
Narva Truck & Trailer Lighting in LED and quartz halogen, Incandescent, all models, voltages and styles.