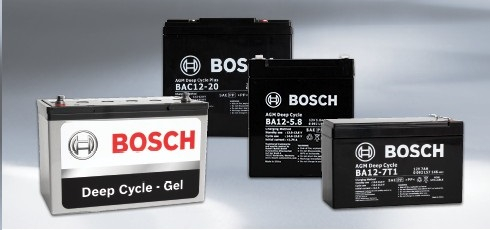 Bosch Deep Cycle Batteries
A reserve power battery is developed for cycling purpose as a power bank, such as UPS (Uninterrupted Power Supply), security system, DC backup power, solar backup, golf trolleys, telecoms and more. To reserve stable power for a long period of time without recharging, the battery is required to have a deep cycle life performance and a high discharge capacity.
The Reserve Power Battery Program (VRLA) consists of Gel Deep Cycle, AGM Deep Cycle Plus and AGM Deep Cycle.
Gel Deep Cycle:
Telecommunication back-up
Power plants
Burglar alarms
Clock
Medical equipment
Computer back-up
Communication
Fire alarm
Cash register
Telephone
Emergency light signal
Uninterrupted power supply
Solar applications
Mobile stations
Airport/runway emergency illumination
Emergency power supply for hospitals
Radar and satellite stations
AGM Deep Cycle Plus:
Electric tools
Lawn mower
Portable apparatus
Electric toys
Illumination light
Wheel chairs
Medical equipment
Solar power
AGM Deep Cycle:
UPS
Emergency light
Signal
Security systems
Electronic equipment
Network communication
DC power supply