Emgrand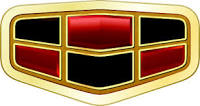 Emgrand
Emgrand was an automobile marque owned by the Chinese automaker Geely. It was launched in August 2009 and discontinued in 2014, when its products were rebranded as Geely.
The Emgrand marque was publicly unveiled at the 2009 Auto Shanghai autoshow, together with two other new Geely brands, Englon and Gleagle. The first Emgrand EC7 production models for retail sale were completed in July 2009 at the Geely plant in Ningbo, Zhejiang. The EC7 went on sale in China in mid-August 2009 as the marque's launch model.
The second Emgrand production model, the Emgrand EC8, was launched in October 2010. In December 2011 it was announced that Emgrand would be launched in the United Kingdom in late-2012, with the Emgrand EC7 planned to be the first model to go on sale. Emgrand vehicles were intended to be distributed in the UK by Manganese Bronze Holdings (which Geely owns), trading under the name Geely Auto UK. The launch was subsequently put on hold.
The Emgrand marque was discontinued in 2014 and its products were rebranded as Geely.
Please select your Emgrand vehicle model below to view the parts available specific to that vehicle:
Emgrand GT

Emgrand GT V6

Emgrand X7 Sport

Emgrand GS Sport

Emgrand GC6

Emgrand XC7
Please read in the product description for which specific vehicles each part suits before purchasing.
Regular Price: $4.33

Special Price $3.96

Regular Price: $7.19

Special Price $6.87

Regular Price: $35.72

Special Price $33.00